Larc saca una nueva colección con varias canciones del grupo.
Y también saca un spot publicitario para PEPSI.
Aca les dejo videos y la información:
L'Arc~en~Ciel - QUADRINITY~MEMBER'S BEST SELECTIONS~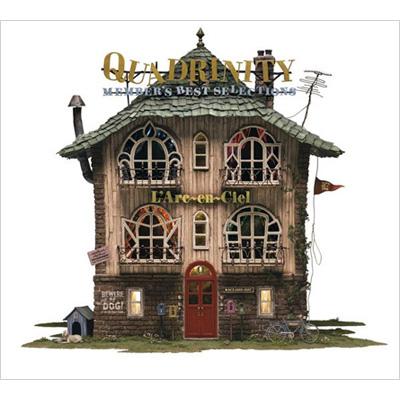 Es una recopilación de canciones compustas por cada uno de los miembros de Larc, y son 7 canciones por cada uno.
Lo que nos deja con 28 canciones, que estan distribuidas en 4 discos. Se sabe que estará a la venta el 10 de marzo en la versión normal y la limitada.
En la limitada habrá un DVD donde apareceran los miembros del grupo participan en un show de preguntas y respuestas llamado "The L'Arquiz"
Disco 1 HYDE
1. I'm so happy
2. HONEY
3. flower
4. さようなら (Sayounara)
5. Anemone
6. いばらの涙 (Ibara no Namida)
7. In the Air
Disco 2 TETSUYA
1. READY STEADY GO
2. Blame
3. Time goes on
4. DIVE TO BLUE
5. 砂時計 (Sunadokei)
6. Link -KISS Mix-
7. あなた (Anata)
Disco 3 KEN
1. 花葬 (Kasou)
2. ガラス玉 (Garasu Dama)
3. MY HEART DRAWS A DREAM
4. Coming Closer
5. 真実と幻想と (Shinjitsu to Gensou to)
6. the silver shining
7. 虹 (Album Version) (Niji)
Disco 4 YUKIHIRO
1. a swell in the sun
2. cradle
3. drink it down
4. get out from the shell -asian version-
5. new world
6. revelation
7. trick
La edición limitada estaría costando 52 dólares por Internet, pero no es un precio exacto.
En
khanhiam.co.cc
lo pueden descargar completo, la descarga esta dividida en 3 partes en rapidshare, megaupload y depositfiles.
Ya lo descargue, se los recomiendo.
Aca les dejo la promo de esta colección:
Quadrinity~Member's Best Selections
Pepsi NEX
Pagina oficial de larc
Pagina pepsi japan
TVCM
ESPECIAL
INTERVIEW